Hover over the Editing button.

A panel similar to the one in the figure will appear.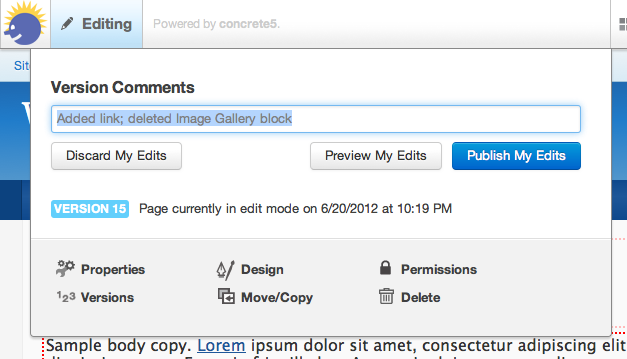 Press the appropriate button from the ones below.

Each choice you see in the figure, and what it means, is explained next.

Version Comments

Enter a brief description of the changes you made, like "Changed dates for upcoming event" or "Added new board members".

If your change was tiny, you can leave the default text ("New Version 33") or change it to "Minor edit".

Discard My Edits

Undoes all changes & returns to the last saved version.

Preview My Edits

Saves all changes, but does not publish the Page so the public can see it. Instead, non-Editors see the last published version.

Editors will see the most recent (unapproved) Version along with the message & link: "This page is pending approval. Approve Version."

If an Editor approves that Version, it's saved and becomes the new published Version.
If an Editor instead presses Edit Page, she will be viewing & editing the last saved Version.

TIP: Preview My Edits is the default option, so if you just press the Enter key while you're viewing this panel, it's like you clicked on Preview My Edits.

Publish My Edits

Saves and approves all changes, and then publishes the Page so the public can see it.

If you don't have permission to publish Pages, you won't see this option!
A handy chart
For the visual learners, we have this handy dandy chart that explains the thinking process you should go through when you're getting ready to exit Edit Mode.